This is the second Super Nintendo portable I have made using the
ZN-40 project enclosure
from Polycase.com, but it is my third overall.
It was built on commission, and took me FOREVER to build. This was largely due to the complexity of the case and time restraints from school and work. I started this project on Christmas Break!
Here's the worklog
if you're interested in seeing pictures of its construction.
Update 8/11/08: YouTube video

Features:
Original SNES buttons and controller mounted in case
Shoulder buttons on back positioned like triggers
Antiglare film layer on screen removed
to increase sharpness of picture (and remove scratches)
AV & Headphone jacks
Charging jack
Internal lithium polymer batteries (two 3.7v 4250 mAh tied in series)
Badass handmade cartridge slot
Pictures:
What's better than one Super Nintendo portable? Two of them.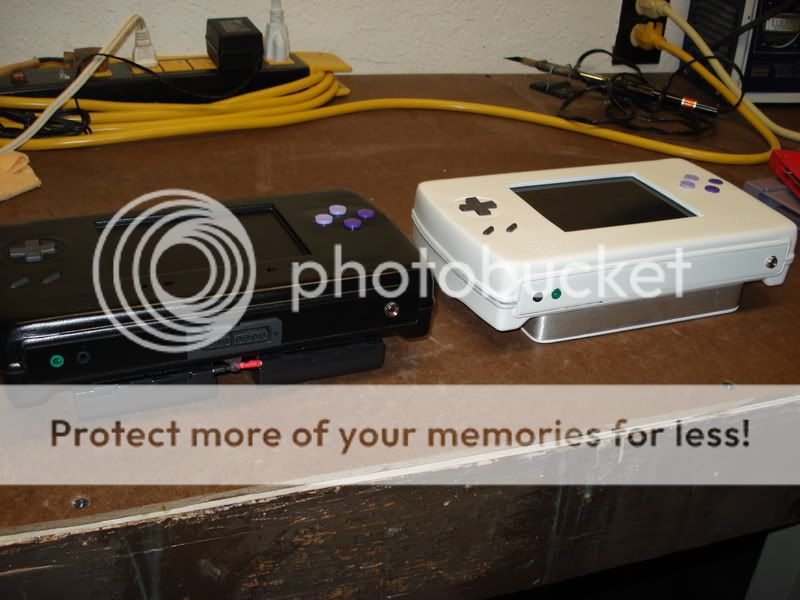 The main changes I made in this new design are internal batteries, the cartridge sits flush with the top of the case, relocated screen controls, and drilled speaker holes instead of bondoed perf board.
And to answer the inevitable question: Yeah, it plays Doom...
The system comes with a fast "smart" charger. A full charge takes only 2.5 hours at most. It knows when to shut off power when charging and the light on the charger changes from red to green. There is also a protection circuit inside to prevent overcharging and over-discharging.
I am so glad to be finished with this project! I will not be making another Super Nintendo portable with the ZN-40 case probably ever again because it takes so long to do it right! For comparison, the case for the next SNESp I'm working on is almost complete after just a few days of work.
Aww, the whole family is together. If only their
older brother
hadn't been sold away...