UPDATE: REV 2 Finished go to page 2.
Ive decided to show you all my first Radica based portable...The sega game block! You could say its finished but i'm going to improve it a little over the next few weeks, then show what i've done. But for now heres what ive built...
The Specs
A 5 Inch Colour TFT Screen (PSONE)
A Speaker
All controlls Start,A,B,C ect
Internal Rechargeable 12v NI-CaD Battery (arrghh! Ni-cad!)
Radica genesis/megadrive Version 2 (i've made it easy to swap to a different version explained later)
The Hardware explained
The system is powerd by a 12v Ni-cad battery. Its from a drill so its a high capacity one. On a full charge i can get up to 2 hours out of it, now i don't think thats bad for a Ni-cad? The 12volts from the battery are fed in to a PSone car adaptor. Its basicly a DC to DC converter that inputs 12v and outputs 7.5v for the psone screen and the radica. The radica appears to be happy with 7.2v as its on-board regulator takes care of this. I conected the audio and video output directly to the psone screen. I used the radica controler board. I cut off the sides and solderd the front pannel buttons to each of the tracks. The case is made from MDF cut out and hot glued together. Then i coverd the rear of the block with black duck tape.
Pictures!

As you can see below i've screwed the radica on to two wooden blocks. Also i've added a connecter on the audio/video output this allows easy swaping to a differnt radica, when i get bored of the built in games. Like when you swap game PCBs in a Jamma arcade Cab. (this is an old picture the radica now has conectors on the contoller port terminals and the power input). I thought this idea up because from browsing the fourms, adding a cart slot can be quite hard to do.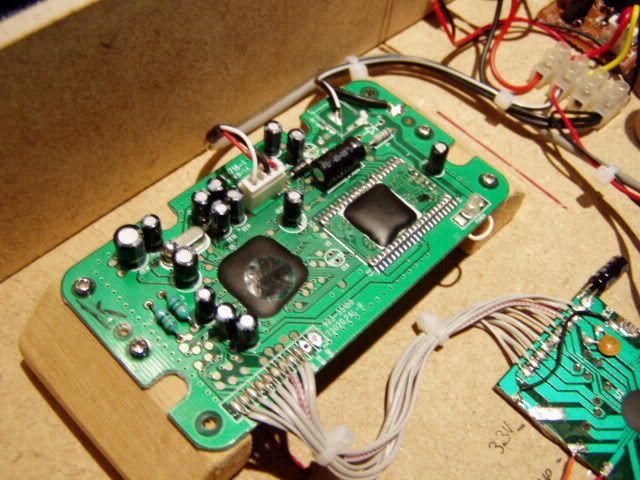 Running sonic...
[img]http://photobucket.com"%20target="_blank"><img%20src="http://i108.photobucket.com/albums/n19/Sam_thornley/Portable/working.jpg[/img]
An inside view...
Rear of the block...
The power circuits...
The screen and buttons...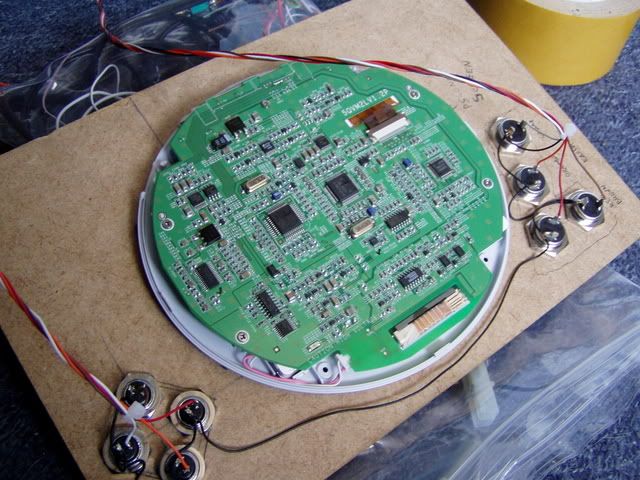 Well there you have it! My first attempt at a portable. Like i said earlier i'm
going to improve it. Here what i aim to do...
Try to fix the problem with the radica where you cant here sonic jump. (SN76489 volume)
Add s-video to the radica and psone screen.
Remove the sound amp from the psone screen and build a separate one.
LED Mod the Psone screen
Maybe even add a cart slot in the near future...
Id like to hear what you think! Also if ive missed any thing out that you would like to know just ask.