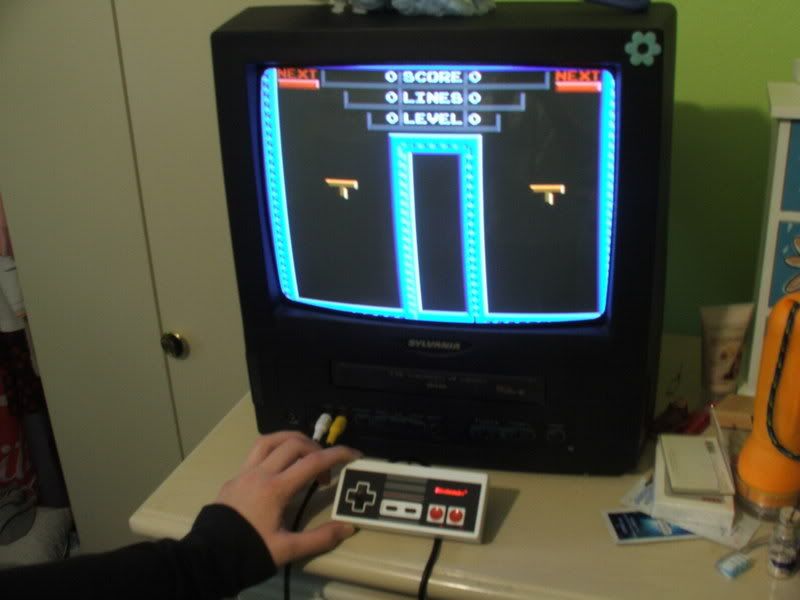 (hand in pic borrowed from girlfriend)

Not entirely a new idea, but it's got some nifty extras, and looks pretty dang sexay while its at it. And no, it's not a portable!

Entirely home TV based!
(if you want to go ahead and jump to the
pics,
here they are
)
I took a famiclone (Super Joy III) and put it in a controller, with a bit of style and quality added. It was made for my girlfriend who's a big NES nut like me. That made it easy to guess a gift for her birthday. Just thought, "what would I want?"

I got it made a little late, but it was worth it to make right.
Anyways, here's the info on the stuff I packed into this sweet little rectangular gaming goodie!
-Came with built-in pirate games, including the 2 player version of tetris, and a level select hacked Contra, among 70 or so more games. Nearly endless supply of old-school-nes there. I didn't even get to play every one before I gave it away, lol.
-Catridge connector on back for playing those NES games that aren't built in. Just switch the power switch over to the left and it disables built in games, and the catridge is playing. I wasn't going to add this at first, but thought about how she had a weird pirate game with a guy who threw rocks, and it wouldn't work on her blinking NES. I really wanted to play it, so thats why I added it. A bit selfish maybe, but I don't think anyone will complain

-2nd player controller port! Lightgun works with it too. Which is nice, because there's at least 3 lightgun games built in.
-Controller got a nice new white paint job! Makes it look both old school, and newer iPod-ish. I basically wanted to make it look like something that Nintendo would make if they were to re-release the NES. I think it ended up better than what they'd make

-Nintendo logo is backlit! Looks insanely cool in real life. I'm going to do this to all my NES controllers when I can get around to it! It's that cool. Only thing that bugs me is that one LED is too close to the logo and unblablances the light. Something only a perfectionist would notice.
-Fixed those little "notches" that were near the cord and on the bottom of the controller. I did this by filling them with bondo spot putty and sanding smooth. Those little things alwasy bugged me, they detract from the beauty of the controller in my opinion, and needed to be
killed

.
Thats about it, here are the piccies.
Hacked, 2 player version of tetris playing. No cartridge needed, ha ha!!!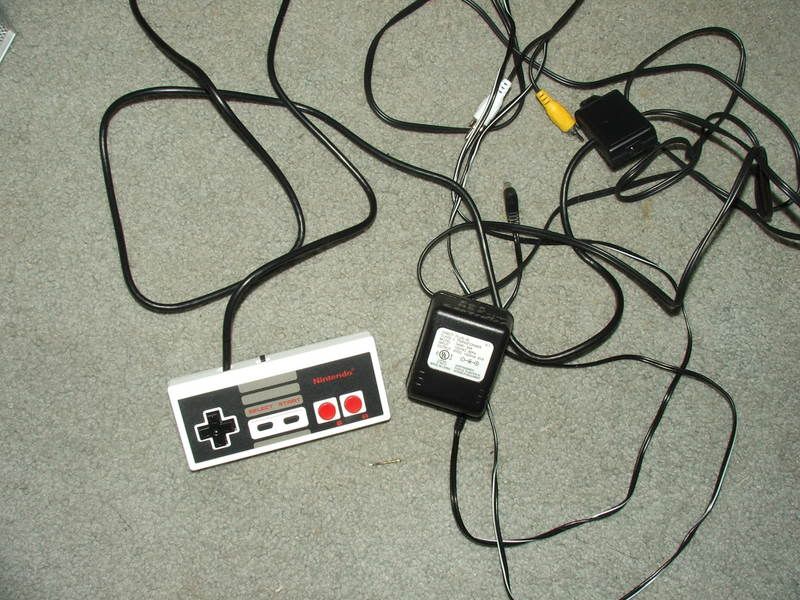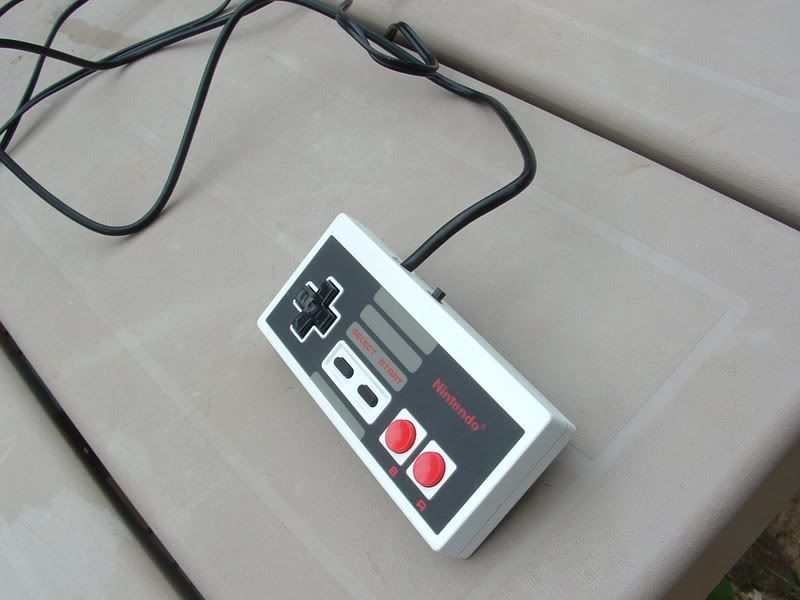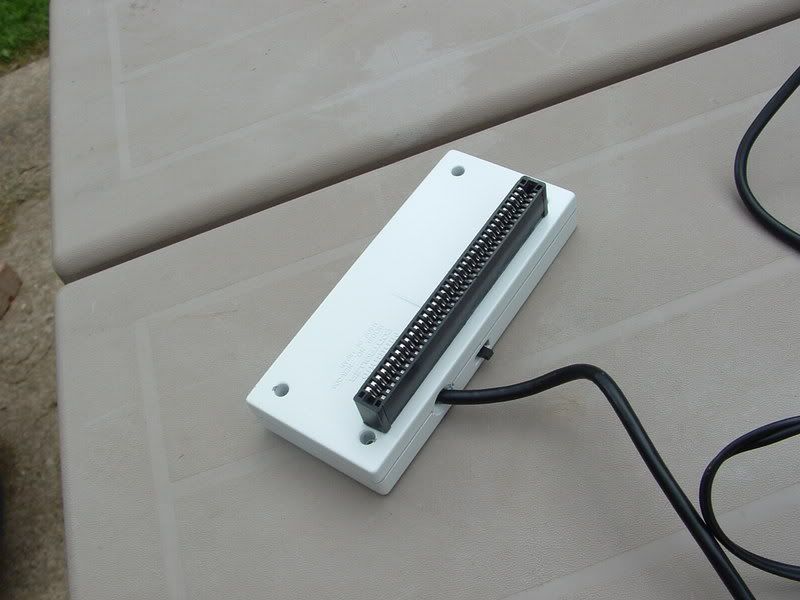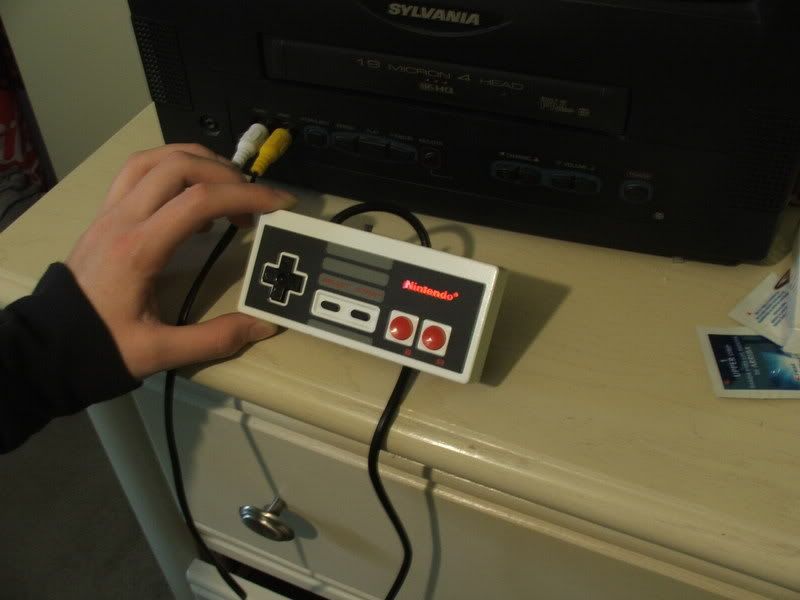 The system. It will be well played, no doubt.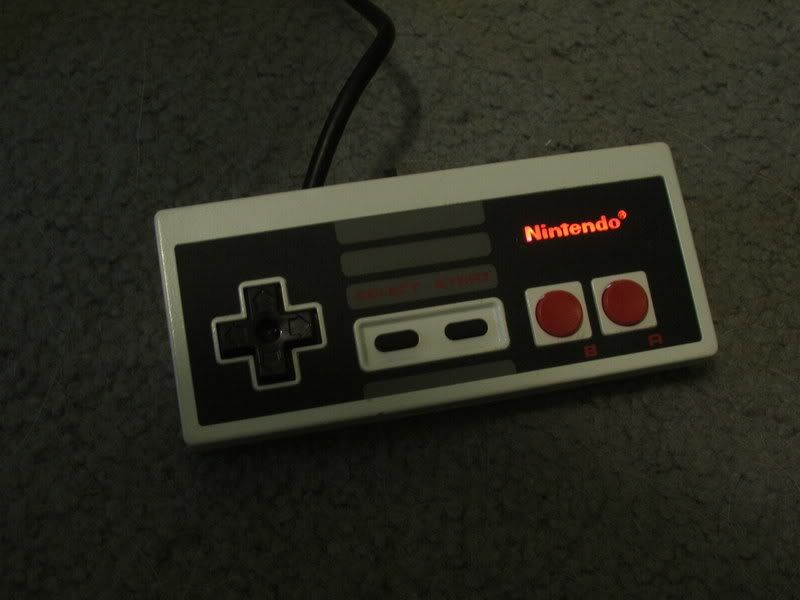 The LED back light looks awesome. Even when it's not dark, you can see it.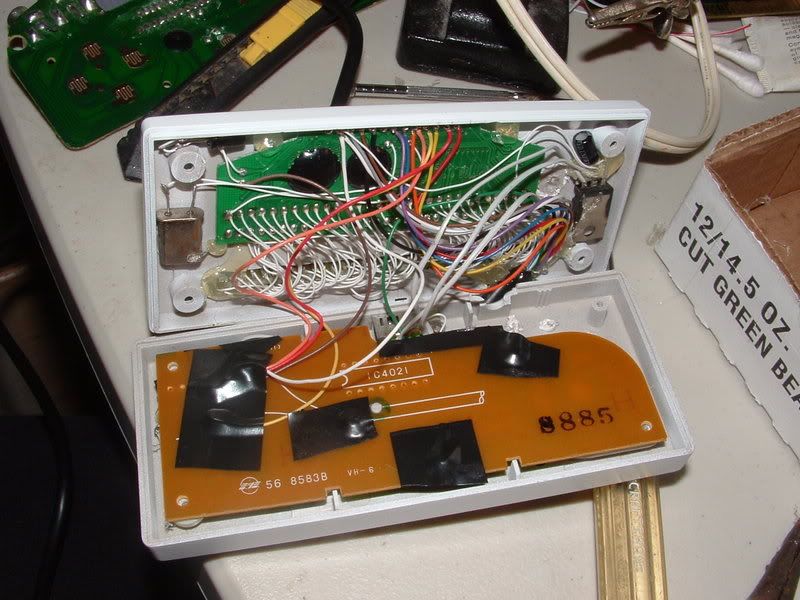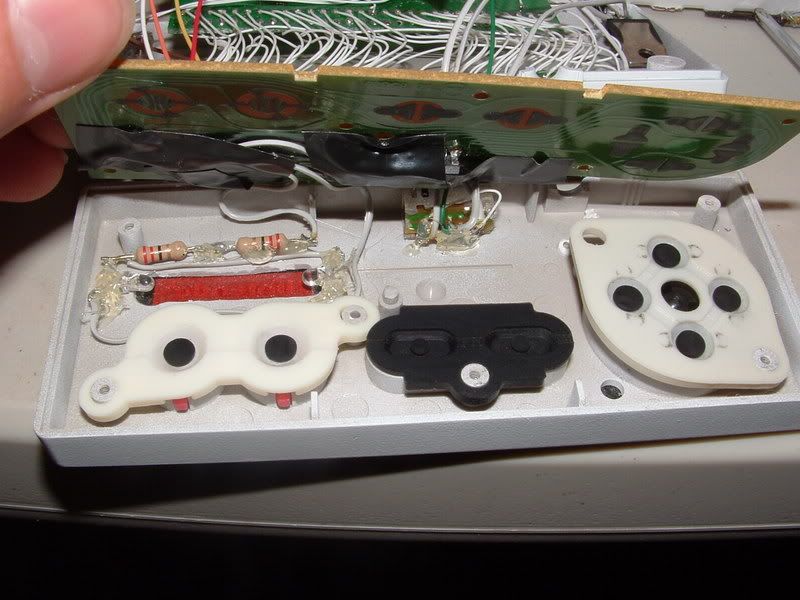 The insides. PACKED! TIGHT!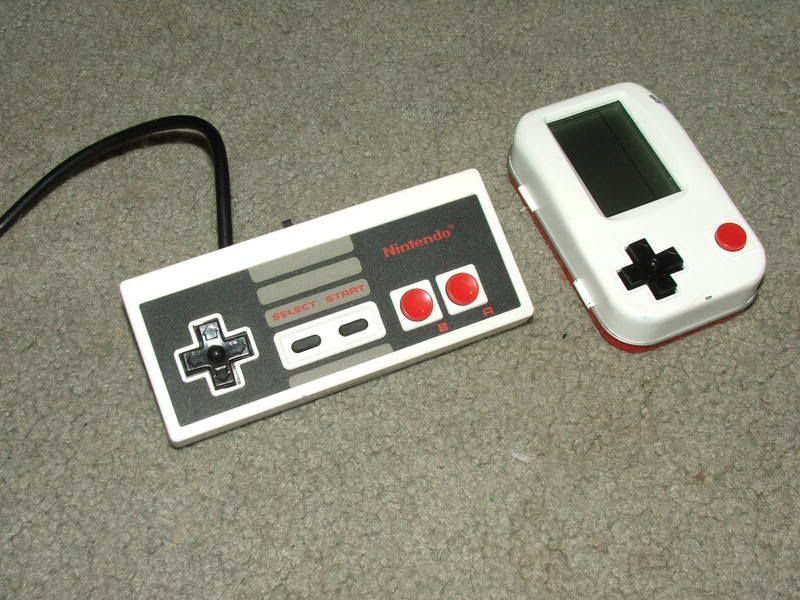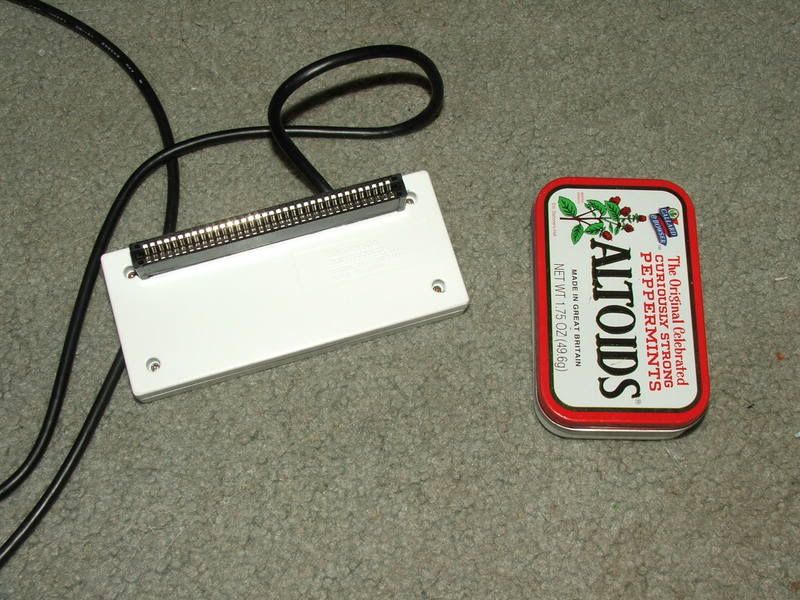 Size comparison to Tetris-mint game thing the I made for her also. seemed appropriate.
well, enjoy! I had a blast making it! If you've got questions, fire away! I like answering.
There are tons more pics of the assembly and finished unit here
http://smg.photobucket.com/albums/v510/ ... ES%20mini/
Check 'em out!
EDIT:
Hello Digg and Etechblog! All the photobucket pics went out long ago, lets see how long these imageshack ones will hold up.

(BTW, everyone seems to get it wrong, it's G-force. Small f, big G. Just noting.

)
Ooo! Tetris playing with no cartridge. Built in pirate games or witchcraft, you decide.
Compared to the
Tetris case mint game system
I made
My friend Kyle playing a cartridge. Some pirate game called Big Nose. Cavemen games, you can't get enough.
A small junction box houses the player 2/lightgun port, AV out jacks, and the power jack.
here you can see the power switch. In the middle its off, to the left it plays cartridges, and to the right it plays the built in games.
White LED backlighting. Gotta love it, such a classic mod and it works so great on this.
some larger pictures of the whole thing. Thats an entire NES system and a pretty large game library right there.
Build pics.
As you might know, this uses a pirate famiclone called a Super Joy 3, there was no real NES hacking involved. Here is the
wikipedia link
which has a list of the games included onboard.
I found my Super Joy 3 for a few bucks at thrift store, and knew exactly what I wanted to do with it when i saw it.
Shown here is the SJ3 with a neat little thing called a family converter plugged in, these are used to convert this from a japanese connector to a US cartridge connector. I just had to make it smaller.
Here everything is shown already taken apart, desoldered and dremeled apart, ready to be soldered to the famiclone. I later wired every connection by hand. Took a few hours, but since I've done it before on the
NES Boy
and
NES p0cket
, it wasn't too bad.
After using goo gone to get rid of old sticker residue, using bondo on the case, doing several coats of primer and sanding, it was painted white with Krylon Fusion paint. Tough stuff from the testing I did. The sticker was put back on with some Duro spray on glue, worked excellent. After all that, you wouldn't know this case wasn't from 1988, and not some new gadget off the internet. It even fooled several people into thinking it was a real thing I had just bought somewhere. It took showing pictures of the insides to prove i had made it, lol.
The player 2 port came from a broken NES. It was dremeled down a lot so it would fit in the junction box. The cable going from the controller to the junction box is from an old broken 6 button genesis controller. It had just the right amount of wires, and was just thick enough to fit.
Inside the junction box. Before hotglue was very generously applied to prevent wires coming apart from use.
The NES controller IC had to be "flipped" in order to fit the famiclone in. So the pins were all bent the opposite direction, and then soldered in place. The board had to be cut in a few places too and rewired, so that the switch would fit.
Almost done wiring
Everything was hotglued later, to prevent anything coming loose in the years it will be around. That was pretty much it.
I've been asked if I could make more of these, and yeah, I think I could. But I won't take any orders, it's just too complicated that way, I will just post the ebay auction on this thread when I get one made. Thanks for all the interest guys! Keep the NES love going! And if you're interested in making one of these I would recommend reading Ben's NES portable stories, then checking out the NES forums here (most notably, the sticky at the top).