hey guys, thought i'd start a new post since the other title was kind of retarded after i'd bought one. i'm gonna paste over the first picture post, and continue from there:
Rymel wrote:as promised, pics, and a video

uh, ignore what the backplate is doing to my face o_O

edit:

the video is the last image, click it to view, or just watch the youtube vid of it i put up after i found out i can't put up a video player:

http://www.youtube.com/watch?v=2N2VkyLrR5k

there are descriptions for each photo if you want to see my opinions on the given shots, but basically speaking this thing is pretty light and is about the same size as a ps2 slim. i may just skip modding it entirely for the first mobile unit i make and just construct a case to mount it all in and build a custom external battery pack for use with any other portables i make this year.

i WILL have to construct a custom ps2 av to av mini stereo cable though, because that jury rig i did is going to get cumbersome, fast, but honestly for my uses (breaks at work) this first run may just be a kitbash instead of a full-blown portable project. since these screens are so damn cheap i may go buy 2-5 more before they disappear from that costco as it's not even on their website. but if i do one is going to a definite handheld ps2, and the other...maybe a wii laptop for use with gc and emulators. cuz who wants to do motion gaming on a 7" screen?
and here's new shots!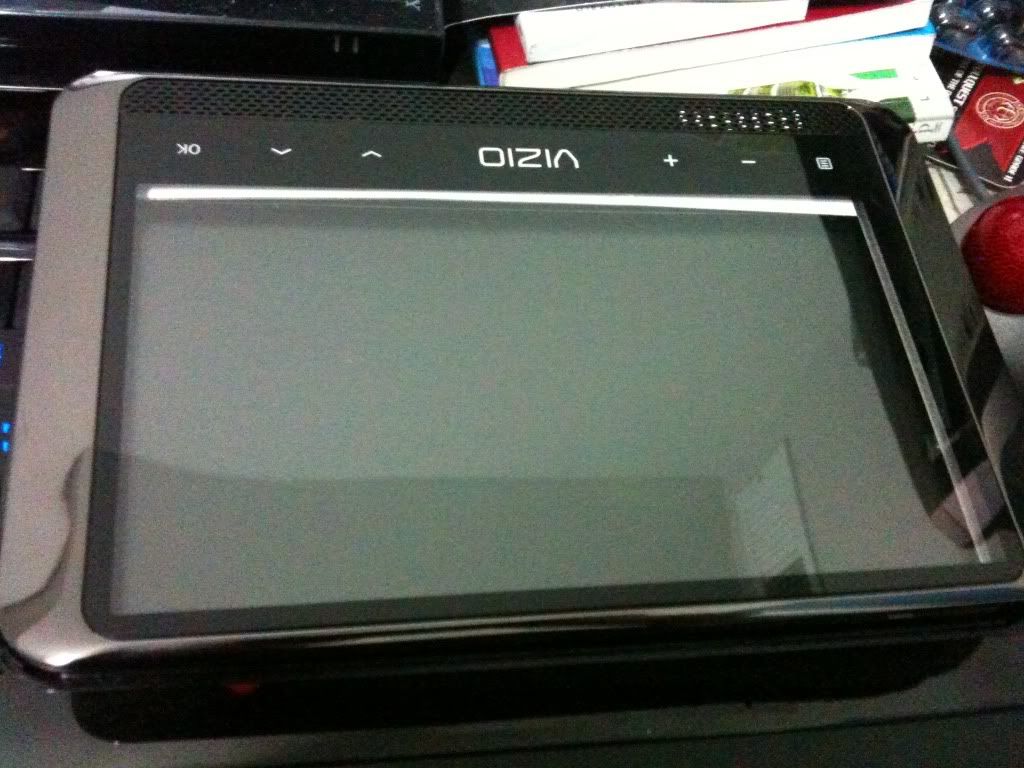 i skipped shots of me prying the case open with a knife, partially because i couldn't hold the tv and pry while taking pics. it comes apart extremely easily, and there's only 2 screws total, both on the antenna side underneath the sticker. the sticker was also very easy to remove. careful not to shove the knife too far in or you might scratch something. i scratched the back side of the case that covers the lcd screen, so i can't close this back up to use normally should i ever choose to. meh, all or nothing i guess.
case opened up. the panel attached to the front of the case is the capacitive touch control panel. i've yet to figure out how to transfer that over and honestly may scrap it entirely and control the volume through external means between the tv and headphone out. the power button's separate so it's not terribly critical to keep. the nipple-looking things are the speakers, and i'm not sure what the white strip is on the metal frame but it was behind the buttons. so if it's required for the touch panel to work, i may just scrap it.
just a shot to show panel thinness and the backlight. that thing is literally a wafer.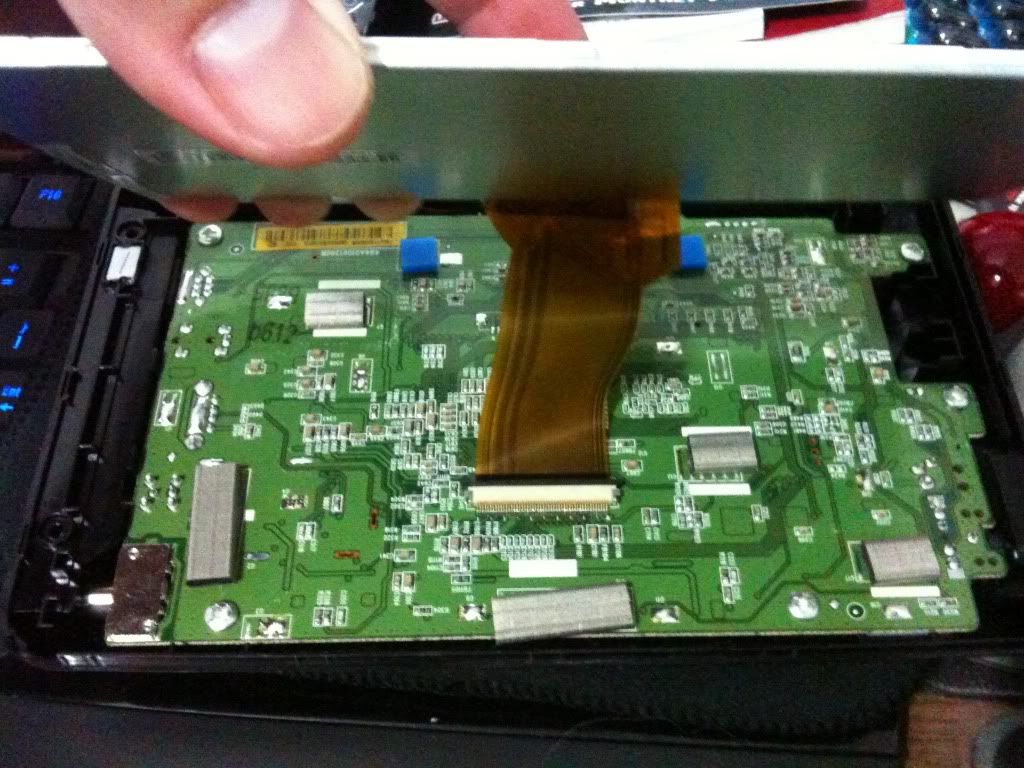 circuit board. there's 4 screws holding it down. plenty of play on that cable should you want to move it away from centered-above-the-board. be warned that there was glue holding down the tray antenna-side, but light prying with my knife got it off without issue. just don't panic when you can't get it off.
this shot also shows the antenna's mount point, the metal part on the bottom right. i can't figure out how to remove the antenna so my complete removal had to stop shortly after this. tomorrow, when it's not 1am i'm gonna raid the garage for bolt cutters or tin snips to break it off before unscrewing that from the board. who's gonna watch over-the-air broadcasts instead of playing PS2 with my unit anyway?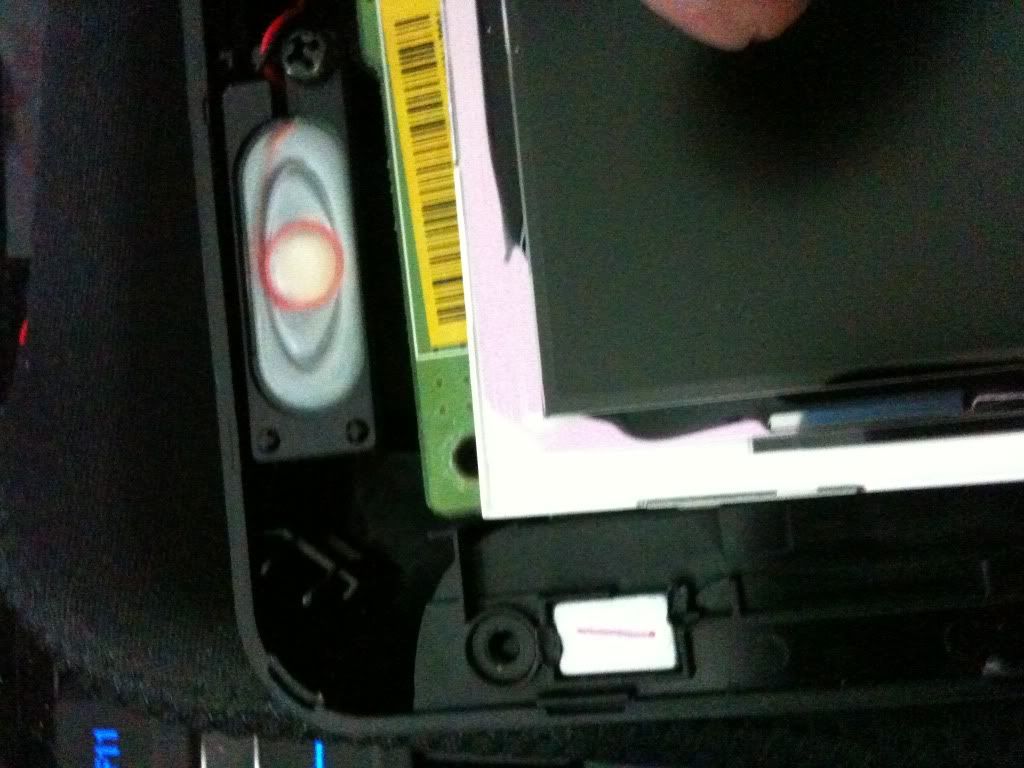 that little square is a magnet. i can't figure out what it's for. i'll investigate further once everything's out of the case, but for now all i can tell it does is hold the tray to it.
battery shot! or batteries rather. surprised there were two, quite disappointed that they're so small. no wonder it's only 3-4 hours battery life. they're so thin and light i may keep them in the design just to augment the power system and let the lower-half battery packs power the PS2. also note how thin the overall package is going to be. so much smaller than the case itself. can not WAIT to put this in a slimmer casing.
that's all for now kids. tomorrow if i don't sleep half the day away i'm gonna head to the plastics shop and get me some acrylic to mount this to. then i gotta learn how to drill holes into acrylic, lol.