Well I got a VCR with a Lcd screen on it for $15 at a rams rack its a Audiovox VBP2000 -VCR. Anyways I was wondering if it was usable for a hacked portable screen I have already disassembled it and removed the screen with no trouble at. Now the VCR had composite video input so im guessing that means it usable but i'm not that much of a electronics guru. So any and all help will be greatly appreciated and I will post a picture of the screen and the composite input jacks for the VCR.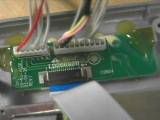 this is from the VCR board its not connected to the screen but i may wnat it connected havnt decided yet
I will have some higher definition pictures up soon.