I wanted to get better picture quality on my portable (The Sega Game Block) because i was sick of using composite as it sucks ass.
I was tracing around were video signals go an the board and i came across this philips chip the doesn't seem to be present on NTSC screens. I probed around the chip with the oscilloscope wile inputing composite video the normal way and noticed that it was outputing a pure chroma signal through to the AN2526NFH chip. And on another pin it was outputing a luma signal. Then i got the idea that i could input a s-video luma signal in to the composite input and then input a s-video chroma to where the philips chip outputs to the AN2526NFH ciruit. Still with me ?!
(i bet your thinking now "i've heard this all before on segasonicfan's post its not posible!" but it is with a PAL psone screen as the video circuit is slightly differnt to a NTSC version) I tried it...first the picture was just
black and white as i hooked the chroma up to the wrong pin. Secondly i hooked the chroma pin 51 on the AN2526NFH then picture was in color but it looked like i was inputing composite like before. Lastly i removed a smd capacitor and conected a 220uF cap to 51 and inputed chroma through the cap. It worked awesome! The picture quality had improved loads!
There where...
No more Cross color artifacts
No more Colour bleeding on reds and blues
Sharper image!
If i even dare say...the quality is compareable to RGB!
Its seems that the AN2526NFH is set by an I2C bus to natively accept luma and chroma signals on PAL versions of the psone screen. I'm probably wrong but i'm saying this because of the quality of picture i'm getting is decent. It might be still mixing the y&c signals internally (like on segasonicfans post) but in way that the picture quality is not affected.
How to do it your self.
Basicly conect your Y (luma) signal to the composite in the usual way and
your chroma like this...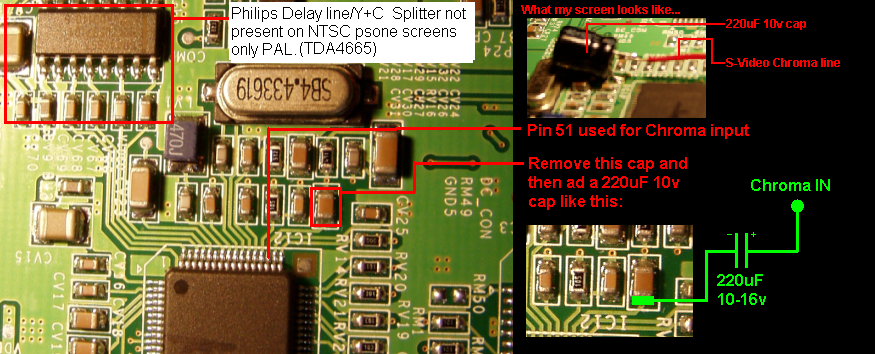 another view...
If you want any high resolution pictures of the board i'll be more than happy to take some more!
I hooked up my s-video moded radica genesis/megadrive back up to the psone screen so i can put every thing back in to the case. Heres some pics of the psone screen using s-video on a my radica...
Radica ver2 menu...the colors are a bit high but it could do with some more tinkering...
Alex kidd...look at the text its solid yellow! no cross color! My camera isnt the best so this this is the best pic i could get.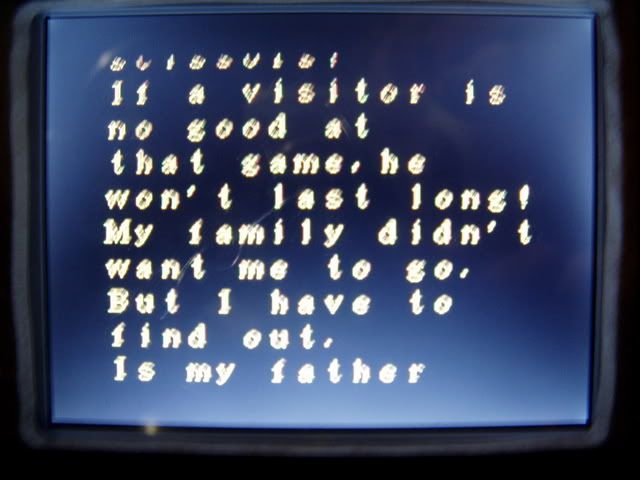 Alex kidd...level 1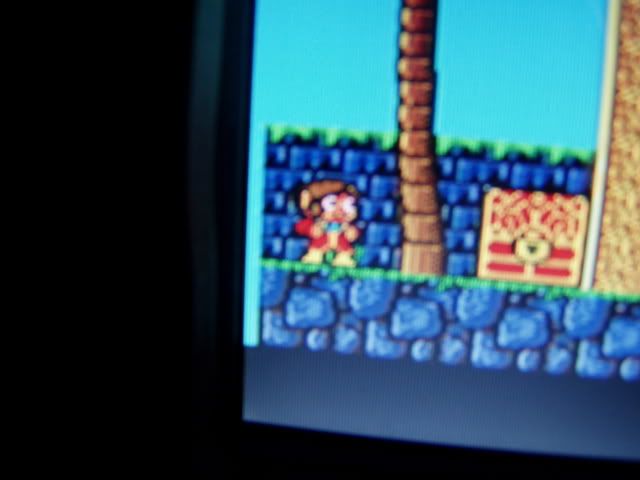 Radica version 1...hooked up using svideo
Dr.robotnicks mean machine...Pixel perfect!! (almost)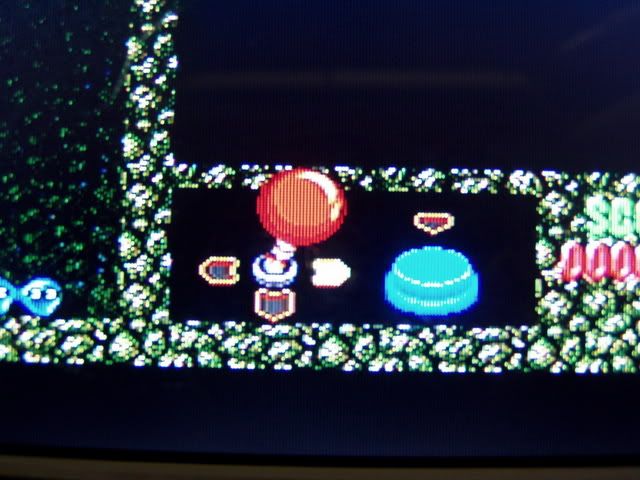 If you have a PAL screen try it! its loads better than composite!