I have the Polaroid DVD player pictured above (and right here:)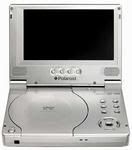 However I do not have the Sharp RB5P006AM - instead I have a Panisonic MN5814 - a quite well documented chip. (
http://files.darkfader.net/psx/files/LCD/MN5814.pdf
)
What I would like to idealy be able to do is use the screen with composite input, or possibly as a computer monitor if possible (VGA input)
Pin 1 on this chip is said to be for composite input - I'm assuming this is the inside pin of an RCA plug and the outside is some type of ground?
I am sure the chip wasn't hooked up for composite input when it was in the dvd-player, so what do I need to do to make this work? am I likely to have to cut any traces?
I do have some expreience with electronics, many a car stereo, alarms, and remote starters installed, I've also played around with hardware output from the printerport on a computer a bit, so I have some experience - but know virtually none of the terms for some reason, so please bear with me.