List of parts (Edited May 19, 2011):
Gamecube Revision C
One Gamecube Controller
Psone Screen
Three 3.7V 4700mAh batteries
11.1V charger
Lazerdoodle
7808 regulator
WM10055-ND - 6" 12 pin 1.0mm ffc cable
WM10218-ND - 6" 10 pin .5mm ffc cable
WM7679CT-ND - 12 pin ffc Zif connector
OR740CT-ND - 20 pin ffc Zif connector
Size M jack
Size M mount
Bondo
Apoxy
Highlights:
-Three 3.7v 5000mAh batteries for 11.1V, which should be about 2 hours of play time
-5" PSone screen
-Internal memory cards (relocating slots is problomatic)
-Classic Gamecube Controller
-One player only (I am too new to modding to have anything more)
-Headphone Jack
-DD intact
Current Design as of May 19, 2011: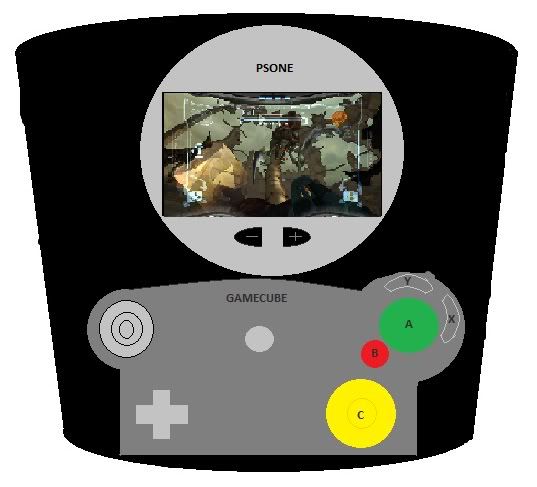 My art is amazing, isn't it?

____________________________________________________________________
UPDATED MONDAY FEBRUARY 14, 2011
This is my first GCp, so I thought I'd make a log for it. I've taken it apart, but I don't have a proper case. I was going to use a Dynex DVD player, but it was too thin. I was then going to use the ZN-45, but that means I would have to LED mod the screen.
UPDATED MONDAY MARCH 14, 2011
Good news! I found a case. I currently have a Lazerdoodle on the way! I should be able to start building some time next week.
UPDATED THURSDAY MARCH 17, 2011
Hailrazer mailed me the case, and it should arrive in a week or two.
UPDATED SATURDAY MARCH 26, 2011
The Lazerdoodle has finally arrived!

I should begin construction tomorrow or Monday.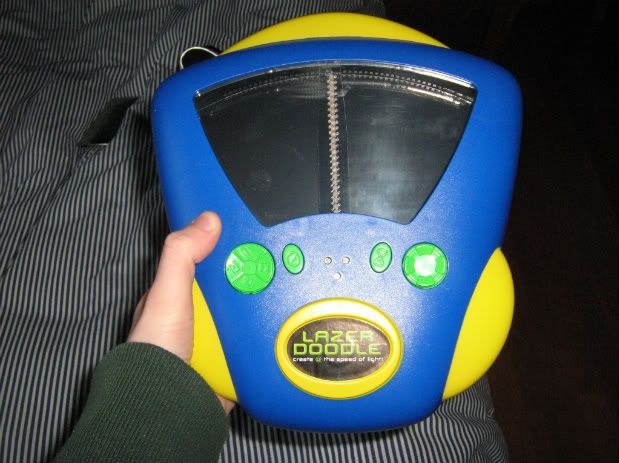 UPDATED SATURDAY APRIL 9, 2011
Good News! I wired the regulator to the motherboard. It works perfectly, which is a relief from all of the frustration and re-soldering I had to do. All in all, it took about 2 hours (1 and 1/2 hours of that was procrastination), which is actually pretty good.
UPDATED SUNDAY MAY 1, 2011
Due to memory card problems, and other soldering issues, I have decided to start again. This time, I promise I will do it right.
UPDATED MONDAY MAY 16, 2011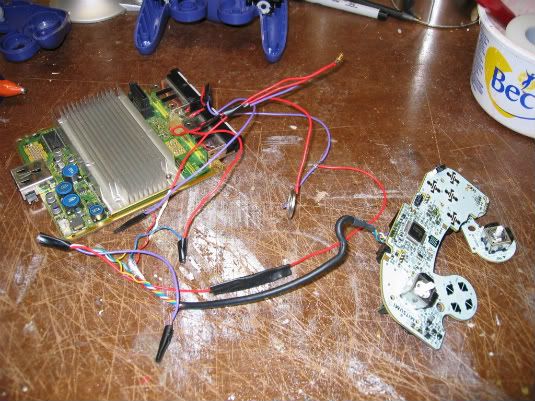 I wired up the controller to the motherboard today. Took a little while, but it's working fine now. All I need now is a 7808 regulator for my screen and I can complete the soldering phase of my portable.
UPDATED THURSDAY MAY 19, 2011
I was looking at other Portable Logs today and noticed something I don't have that every other log does. A LIST OF HIGHLIGHTS AND A DESIGN

The reason I didn't do this at the beginning of my portable is because I wasn't entirely sure what I was going to do. I had a basic idea, but I still wasn't sure about the case or my finished design. I apologize and will upload a list of parts and a design sometime today.
UPDATED TUESDAY JUNE 7, 2011
I finally got around to working on the portable last weekend. I've been extremely busy with ISPs and upcoming exams. Anyway, here's a small update, but don't expect another until late June when school ends. I've wired up the screen and lengthened the wires on the DD.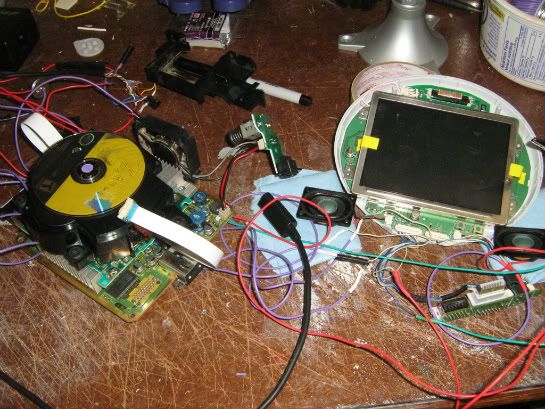 UPDATED THURSDAY JULY 7, 2011
Okay, I should have uploaded this 2 weeks ago, but I ran into several problems, which ultimately caused me to buy a new PCB and a new battery.

<sarcasm>Try adding a HAZ-MAT package onto that for extra fun</sarcasm>. Anyway, $120 dollars later (I hate batteryspace), here I am with a fully functional Gamecube portable. Tie to pack up the soldering gun and break out the bondo!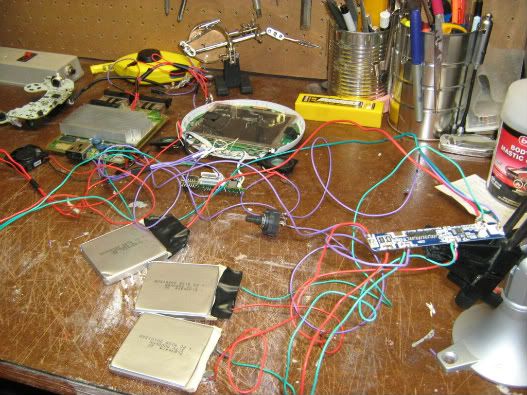 UPDATED THURSDAY AUGUST 18, 2011
I've been working on the LightCube occasionally this summer, mostly because of volunteering and vacation. But, I have 2 things to show you today. I replaced the GameCube triggers (kudos to HailRazer)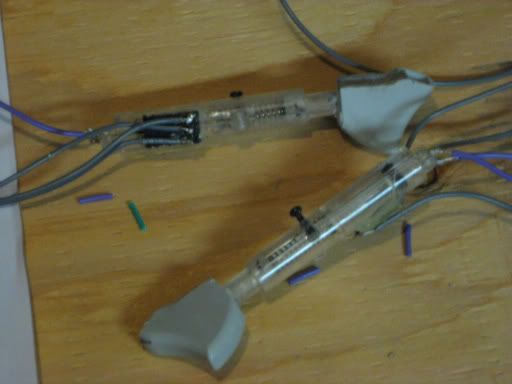 ...and I've started the case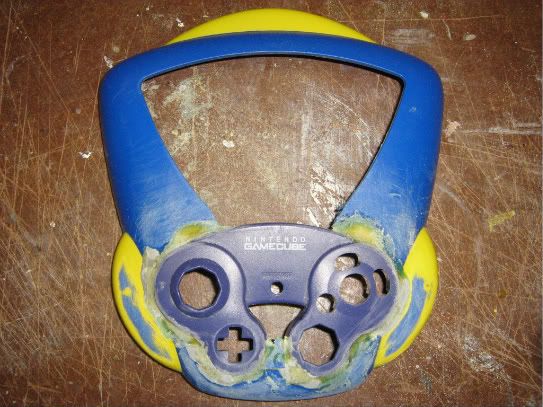 UPDATED MONDAY DECEMBER 19, 2011
Alright, it's been about 4 months since I last made a post. I've been not only busy with homework, but also really procrastinative. I am almost ready to unveil the portable, though I doubt it will be done until early February, as I'm going away for Christmas Break, and then have exams a few weeks later. I unfortunately don't have anything to show you at the moment, but I promise it will look mediocre (at best).
UPDATED TUESDAY MARCH 13, 2012
Well, I guess I have some explaining to do. I'm once again pushing the release date for the portable. I do have an excuse, though. Back in February, I had finally finished apoxying the LightCube, and was literally screwing it together when something went wrong. I found a problem with the Z button, and soon found myself on the hunt for a new motherboard. Anyway, I am re-casing it, and expect to finish by the end of the week. Here's some pics: