I suppose now is as good a time as ever to enter the portablizer's club, and what better way than to portablize my first and one of my favorite game systems: The Gamecube!
Features:
Rev. A GCN mobo- original regulator
14.8 6.4Ah lipo battery pack
PsOne Screen
Original Disc Drive
Memory Card Ports
4 controller ports
AV multi-out port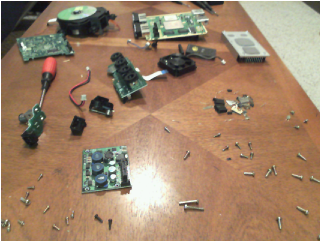 The gamecube has been taken apart and some of the unnecessary ports (serial ports 1 and 2) have been removed
How should I keep this thing cool?
Also, is it ok to put more than 12v (about 17v) into the 12v input on the motherboard? For some reason the regulator stopped outputting anything on the 12v line. Any ideas on what's wrong?