this thread is a lead-on from this one originally:
http://forums.benheck.com/viewtopic.php?f=8&t=42180
sup guys, another PS2 project here. i'm sticking with a generic title because there's no catchy acronym that pops up in my head that doesn't simultaneously sound lame to me. here's the goals:
-first and foremost, getting it actually done, relatively quickly. i've given myself a deadline of end of this month. i am not allowing myself to be slowed down by details such as lack of vacuuforming facilities, inability to make 'pretty' cases (cuz i've never done this before) and trimming down the boards and such. i want to just plain get it done, prove to myself i can do it.
-streamlining the design, keeping the footprint as small and thin as possible. more than likely ending up with a PSP bar-style design.
-retaining the Playstation controller wings. i find that i can't play my PSP for extended hours unless it's in its protective Logitech case as it's too thin to be held onto while mashing buttons without cramping after a while.
-retaining the original L1/L2/R1/R2 shoulder buttons. i've looked at other people's layouts for them, and they just don't seem comfortable to me. so i'm just gonna keep as much of it original as possible.
-retaining dual shock capability. gonna have to remember to wire in an on/off button to save power when not needed.
-utilizing the best screen i can find at the best compromise of screen size (obviously, already done)
-at least 3 hours effective battery life, but aiming for 4. going to have to do some math to see if it's worth the weight.
-splicing in dimmer controls for the backlight
-should i give up on making it entirely handheld, i am instead opting into a clamshell design. i'm mostly doing this to use it at work and when i'm nerding out at anime conventions, so if anything i'll sacrifice portability for any on-the-go functionality at all
-line-out for larger-screen gaming
-some sort of line-out for external controllers
-removal of all left-side ports on the led tv, direct soldering of a/v cable to the board (may ignore this)
-amped speakers with volume control if going with clamshell, otherwise stealing speakers from the led tv and splicing in volume control if i delete the touch control panel from the tv
-system design must allow the system to be opened up with relative ease for servicing
aaand i think that's it for now...here's the sketch i came up with earlier today, please forgive the crap proportions: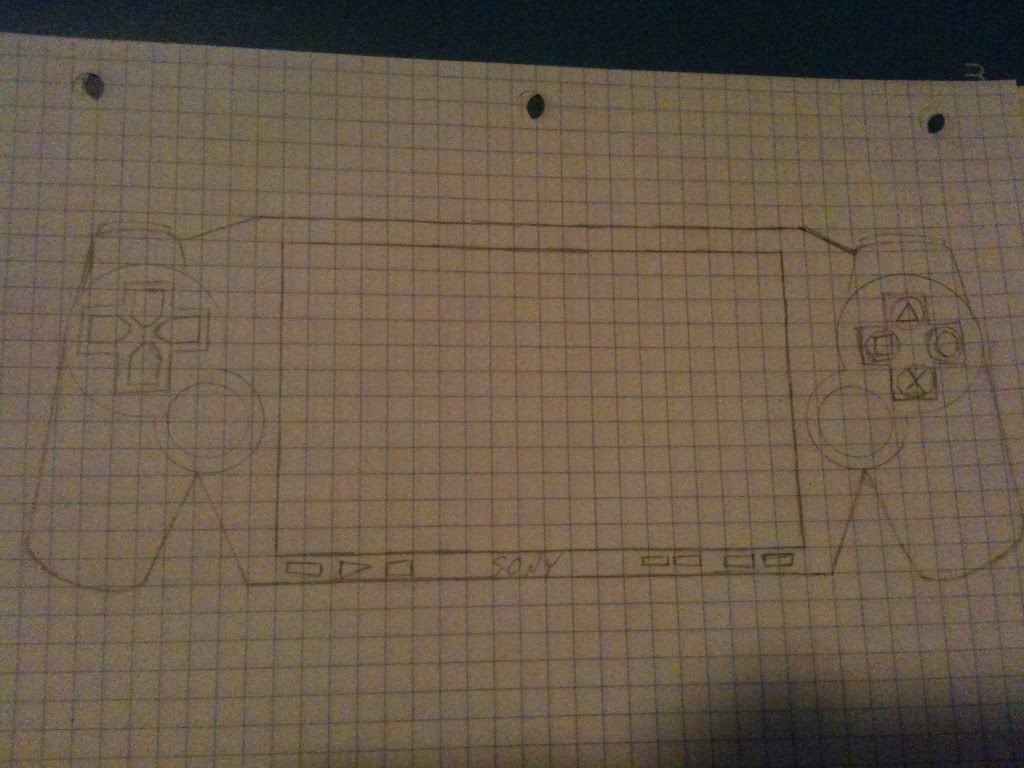 pretty crap sketch of what i think the top half of the system will look for the most part. by top half i mean i'm totally ignoring the actual ps2 in this design, and am focusing solely on an ergonomic and aesthetically pleasing layout for the screen and controller. there's also zero consideration for the batteries and their subsequent layout as it's in the back of the entire design. i could also very feasibly use this design as the external controller/screen combo pack for other systems or isolated system/battery pack layouts. very likely ending up with the psp-style candy bar by the end of the day because of the ps2 board and batteries. however i want to retain the cut halves of the controller and use an acrylic panel overlaying the controller parts and to hold the screen. a sandwich design is what i'm calling it. this will also carry over to system and battery layout design to ease service and dis/reassembly.
if anyone's curious, the buttons on the bottom from left to right are select, start, analog on/off, dimmer -/+, sound -/+. i forgot to include rumble on/off and will probably sketch it in tomorrow, i'm feeling lazy now

here are the mock ups i did with PS3 controllers:
mock up 1. controller halves are mounted on the lower half of the sides. i'm not really feeling this layout, but since i haven't opened up my ps2 yet to lay the board out with it all this may change the game. battery packs will likely end up behind the d-pad and buttons, separated so it doesn't overheat the motherboard during operation.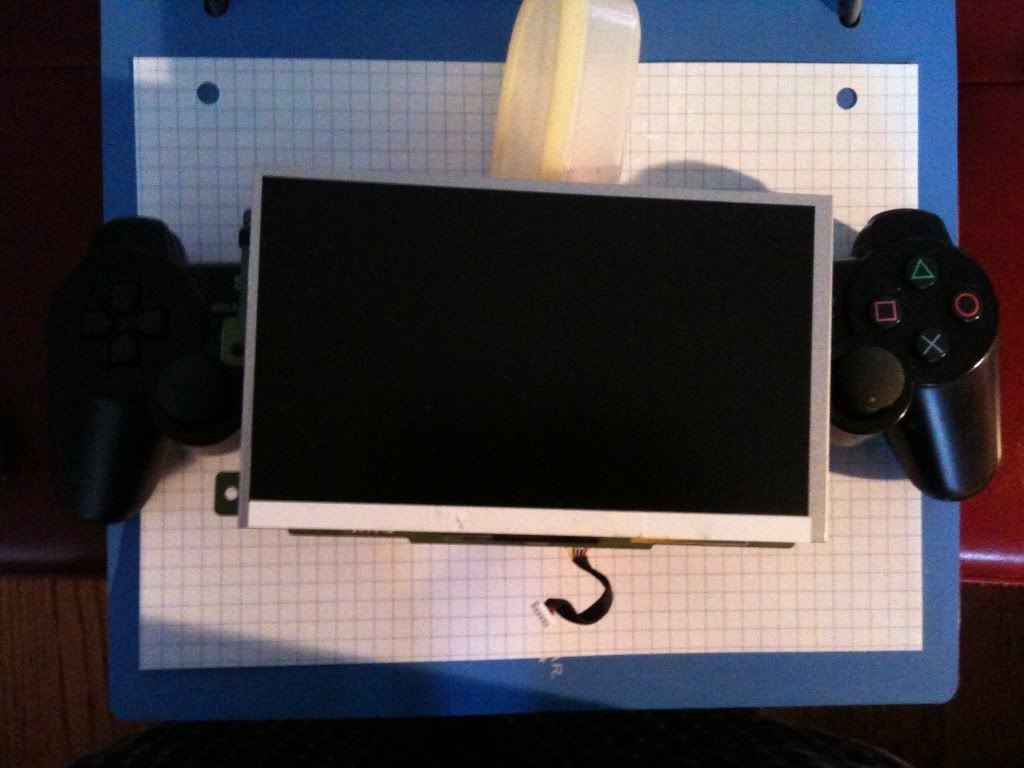 higher up now, closer to a 'psp-style' layout, where the L/R buttons are parallel with the top of the screen. i'm probably going with this design.
so that's where i'm at now. questions? critiques? suggestions? flames? i've never done a system redesign before, so i'm all ears