Moderator: Moderators
Posts: 123
Joined: Wed Feb 16, 2011 9:24 pm
PSN Username: unicycler17
Someone should totally do this with a wavebird and a gamecube.

And this looks sweet.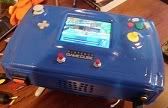 ---
Haunted360 wrote:Best controller is the PlayStation HANDS DOWN and FULL STOP.

Xbox 360 is a better controller over the Xbox, however the D-pad can suck it.
You are completely wrong, but I'm done discussing this. Time to go back on topic.
---
Senior Member
Posts: 2233
Joined: Mon Apr 05, 2004 11:28 am
Location: Sorry Illinois
Contact:
Playstation d-pads are invalid because most of it is missing. Worst I've used though is the
Microsoft glob-pad on the old Sidewinder
.
On topic post: I'm glad you picked up working on this again. I thought it was pretty cool back when you had it displayed at an MGC of Yore.
---