Moderator: Moderators
Posts: 228
Joined: Wed Mar 11, 2009 9:49 am
I'm going to be using a 3.5" lcd for my next portable and I heard that you need to build an amp to control the volume of the speakers. Is there a thread some where to build an amp?
---
Posts: 435
Joined: Fri Jun 04, 2010 10:03 pm
---
Posts: 984
Joined: Sun Sep 07, 2008 3:14 pm
Contact:
This one I built is really simple and works quite well.
All you need are:
10k potentiometer
220 uf 16v capacitor (I used a 35v, works really well)
0.1 uf ceramic cap
LM386 IC
Some wire
And wire it up like so: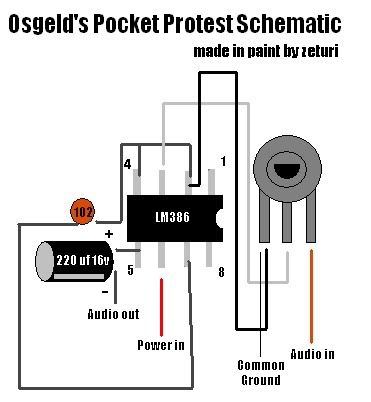 All credit goes to Zeturi
---
Posts: 228
Joined: Wed Mar 11, 2009 9:49 am
Ok from what I gather the potentiometer controls the volume, are there any meters out there that use two tack switches to control the volume rather then a dial?

EDIT: I am also using a 7.4v 5000mah battery, should that effect the components I use for the amp?
---