I've posted some bits about this project on modretro, but hit a brand new speedbump when nearly finished.
My Project: Taking a 90's network diagnostic terminal and converting it into an all in one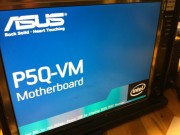 This was my nearly finished project. Screen looks great, doesnt it? Small problem- the backlight inverter board was fried, causing the screen to flicker to the point of being useless.
I figured since I had so much luck with the first monitor that I tore apart, the 2nd would be just as easy. Wrong.
The second monitor has one much larger PCB instead of 3 smaller ones. It uses short, delicate, thin, foil-ish ribbon cables instead of robust, wire-like ones (like the original screen)
Due to constraints set by the case being modded, the ideal screen would be less than 20mm thick...preferably thinner
The screen should have a res of at least 1024x768
I was just wondering if any of you guys knew of a 15" screen solution with robust wiring, and a modular series of interface/inverter/PSU boards that support a VGA interface? The boards dont have to be modular if the cables linking them to the screen are either A. Long enough or B. Extendable with relative ease