Since the Genesis 2, 3, and 32x use the same av cord, they should have same pinout. Only after tracing some connections from the broken off av port and making a diagram did I notice that G-Force made a diagram as well.
His is from the bottom of the board. Anyway, here's his:
http://img470.imageshack.us/my.php?image=pinout3wy.jpg
" onclick="window.open(this.href);return false;
The only real difference is that mine shows the rgb lines, mono, and other crap that probably won't be used. (Haven't seen many folks doing genesis's lately.) Also, my pinout was written for wiring on the top side instead (where the cart slot pokes out.)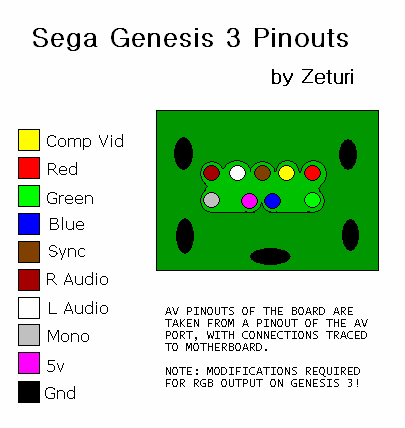 If I messed up anything, please scold me and I will get it fixed.
EDIT: I have also managed to get my Genesis 3 to run off of 4.5v for ten minutes undisturbed, so I think a smaller battery is in the works!