Having been practically raised on arcade and console video games I've wanted to build a MAME system for a really long time. When I was a kid I would collect bottles and cans along the roadside for deposits and then ride my bike ten miles round trip to hit the local video arcade. I would have preferred building a full sized stand up arcade machine, but I'm severely space limited and there's no room for one in my home, so I decided to build myself a bar-top machine. I found a deal on two joysticks and a bag of 20 buttons for $42USD shipped, it smelled like a bargain.
Below shows a Zotac mini-ITX motherboard with GeForce 7050, a Celeron 2.0 GHz dual core processor, 2GB of Crucial DDR2 667 memory, a 350W micro-ATX power supply and lastly a 320GB Western Digital hard drive.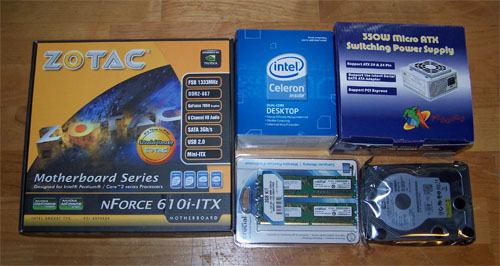 Next is a Matrix Orbital display, VGA cable, a pair of small speakers and a USB sound port adapter and serial cable that were not used.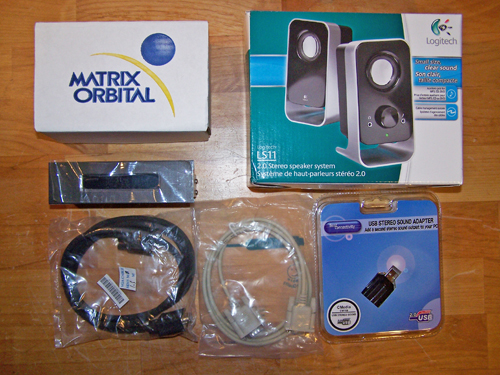 I skipped the usual pencil sketches and jumped right into Google SketchUp. Here's a side measurements view...
3/4 side view showing parts placement...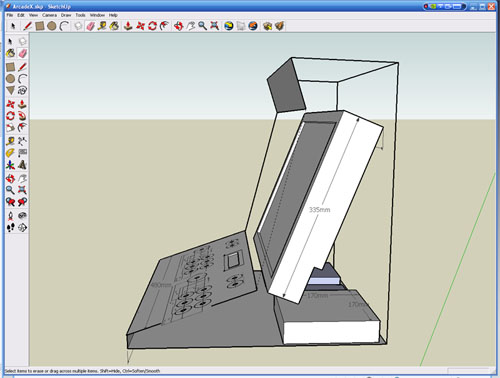 Front view showing joystick and button placement...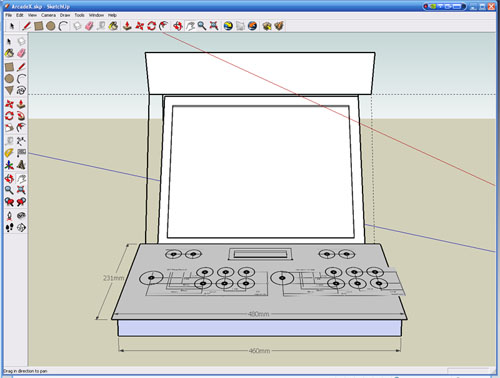 I bought a pair of 24 LED strips for $5.99 shipped off ebay, they measure 9 inches long each. I wired them up then fired them up, they are plenty bright and will be used to back light the front marquee.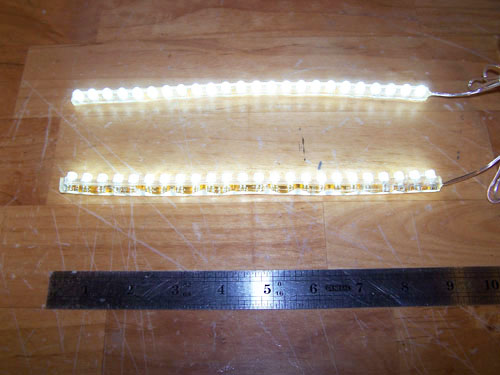 I transferred my side panel measurements onto a sheet of 3/8" thick clear acrylic in preparation for cutting.
I used a jigsaw with a plastic cutting blade and a drill with a specialized plastic cutting bit from TAP plastics and carefully cut out both side panels.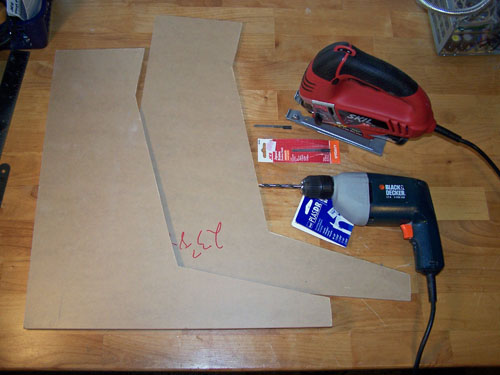 I set both side panels up, measured it out and then sloppily clamped them together just to get an idea of size and also to help me better visualize things.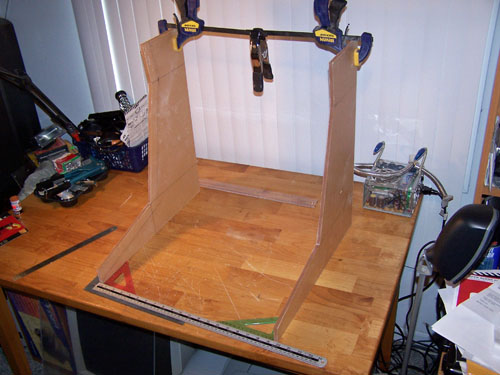 I cut a few lengths of Aluminum Angle to size and roughly arranged them on the side panels, when attached they will be the framework upon which everything else will be built.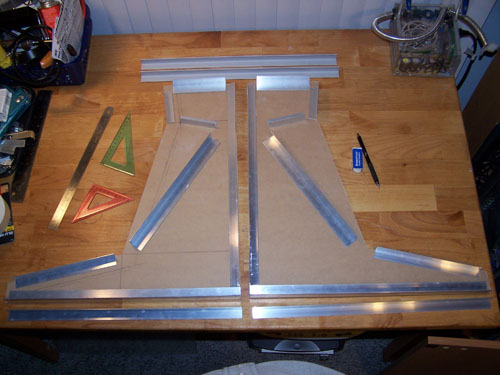 I started with the bottom and worked my way up, the following picture shows the Alum-Angle lower framework all laid out, measured up and ready for drilling.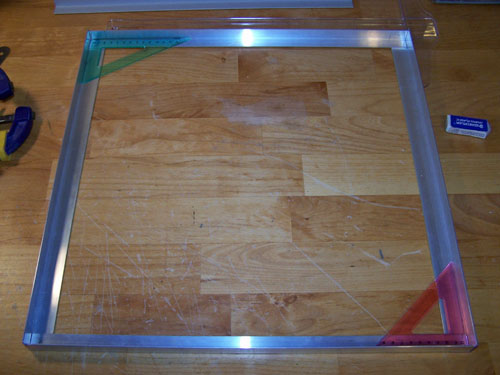 I used my Dremel Workstation and an 1/8" drill bit, the pieces of Aluminum Angle are (for now) held together with screws, they will be riveted together later on.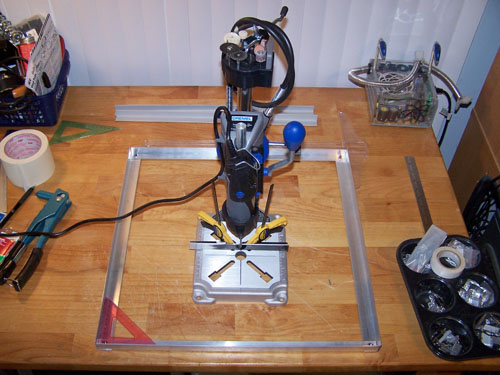 I was going to use an 18" touch screen monitor in this project, but that would have been a total waste - so I instead sacrificed one of my 19" Samsung 915N monitors.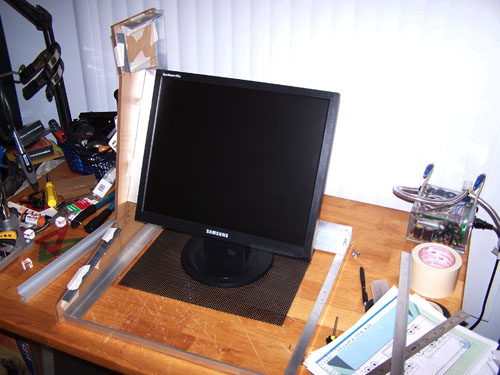 The Alum-Angle bottom framework is just that, framework... it's not a proper base for my arcade machine. Below is a piece of plywood I had in the shed, it fit almost perfectly as was. I marked it in preparation for cutting it using an 80mm hole saw and jigsaw.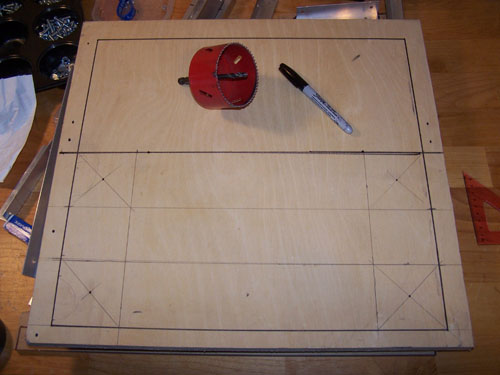 The finished product is shown below, I placed the Alum-Angle framing on top to test for fitment.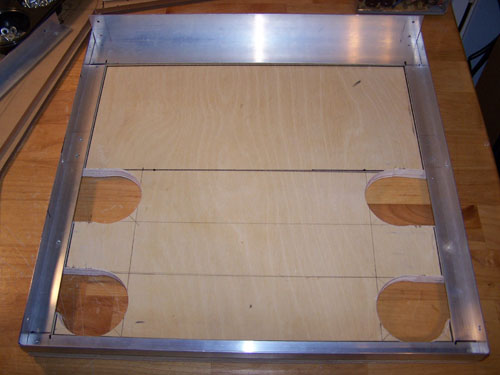 I painted all the outer edges of the base with black acrylic paint and then cut two strips of plastic mesh to cover the side edge vents.