Hey guys! I finally finished this beast!
EDIT: HERES MY VIDEO:
http://www.youtube.com/watch?v=vq1CnY-n-Pg
THE AUDIO IS NOT SYNCED DUE TO YOUTUBE, BUT YOU CAN STILL SEE ME USING THE CONTROLLER AND THE RESULTS HAPPENING ON SCREEN!
What I basically did was take a cheap PS2 boomerang-ish shaped controller, and take its guts out and modify a REAL official Six Axis Controller and put it inside the shell. I also expanded the shell 15%.
I got the controller painted black, so it would be a batman inspired "Batarang Controller".
Please excuse my picture quality. My 5mp camera thinks brand new batteries, are dead. Also, excuse my bondo job. It was my first time.
*drum roll*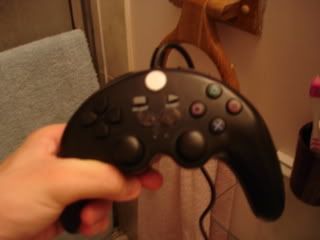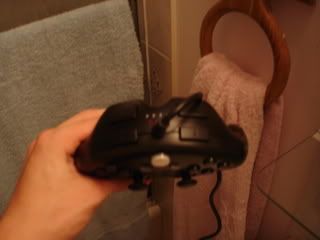 You can see the white PS button. I didnt put any image there due to copyright reasons.
I got featured on hackaday!
http://hackaday.com/2008/09/12/playstat ... ontroller/