I have a couple of NES Game Genie codebooks. They're both Canadian, but one is bilingual, and one has only like half a page in French. (Dunno what happened there.) As you can see, the white one is a little torn and written in.

As for the price, I was thinking $15-20 CAD.
Shipping estimate: (to major Canadian cities)
Vancouver (you could also pick up and not pay shipping)
$8.21
Victoria
$9.81
AB/SK
$11.08
ON/NL
$13.68
QC
$12.82
Anywhere in the USA (Yeah, makes sense that shipping to Hawaii is cheaper to shipping to my next door neighbour.)
$5.17
I will ship ASAP from Canadian postal code V7k 2X5.
Game lists will be shown in the pictures, but the blue non-French codebook lists some games in the "more games" section:
1942
1943
Adventures of Lolo
Battle of Olympus
Fantasy Zone
Ghosts 'n Goblins
Kid Kool
Popeye
Rolling Thunder
Superman
Who Framed Rodger Rabbit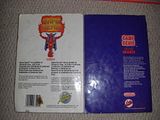 Blue: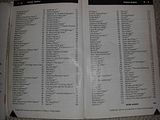 White: