mac1311 sent me his controller to work on, and it was made with the Headset connector removed, thus causing the issue here.
The Headset connector on the 360 controllers is a closed circuit type, or more precisely a half closed circuit as only the Speaker side has the extra connection and not the Speaker and Mic sides. It's this extra contact that makes a switch, and this switch is what lets the controller know if a headset is plugged into the controller or not. When a headset is plugged in this switch opens up and then the controller knows to use it. With the Headset connector removed, the switch is always open, so the controller always thinks a wired headset is plugged in and you'll never get a Wireless Headset to sync up to the same port as that controller.
This is the no-no.. No Headset connector, No switch, and a Wireless Headset will not sync with the controller.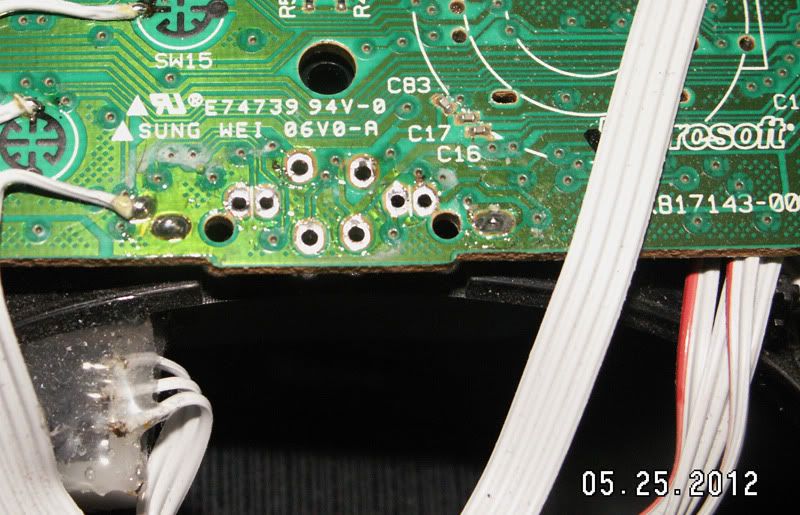 If the Headset connector is going to be completely removed like it was on this controller, and a new one not installed or one rewired in it's place, then a jumper wire needs to be installed to act as the switch. With the jumper wire installed, the controller 'sees' the same thing as with the Headset connector on the board and no wired headset plugged in, a closed switch, so a Wireless Headset will then sync to the same port as the controller.
Jumper wire fix..Fakes keeping the Headset switch closed and a Wireless Headset will work.

_________________


Screwing up is one of the best learning tools, so long as the only thing you're not learning is how to screw up.


Re-mappable Wireless 360 Controller - The CGnome