Hey, I've been giving this problem a lot of thought over the last few weeks, and I think I've got a workable solution, let me know what you all think: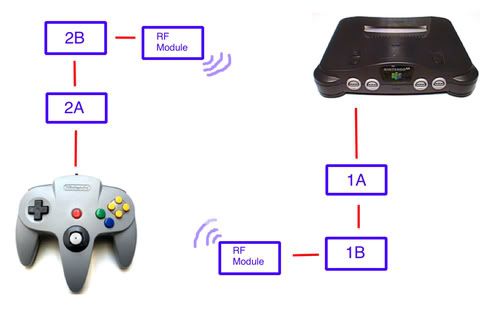 1A:
A "fake Controller chip" - much like
evilteddy's chip
- which continually responds to the N64 that there is a controller plugged in, and says "no buttons pushed" as its default response
1B:
A buffer chip, which talks to the remote over RF, sending rumble data and getting in button status, and executing a checksum to make sure that it is getting uncorrupted data. When it gets controller status data, it passes it to the "fake Controller chip", which will
then
say to the N64 "B button is pressed", etc.
2A:
Talks to the N64 controller, which doesn't care how quickly/often you poll it for info, telling it to start/stop rumbling and getting the button status
2B:
Controls the RF module, sending button status data and receiving rumble data (maybe mempack in the future, but I want to get it going first)
With this setup, you don't have to worry about transmission speeds, as chip 1A (the "fake Controller") will always be responding to the N64, just saying "nothing's happening", unless it gets data from the controller which it
then
passes on. It'd be crazy tough to use a wireless method that can communicate fast enough (and without attenuation!) to make a transparent link (the N64 runs at 4us/bit, or 250kbits/s).
So! What do you think? Worth a try? Anyone want to help put some of the code together even?
PS - Yep, hacking wavebirds or other controllers might
work
, but it just doesn't feel as good, in my opinion. I want to own this controller.