Jongamer wrote:
Very nice, I just got into these guy's Music. Very nice work.
They are awesome. You should check them out in DJ hero.
Anyways, How-to time...
I didn't really take pictures of the process, so I'm sorry if this is hard to follow.
Materials.
1. Plastic Replacement Mirror Sheet for car rear view and side view mirrors. This comes in an 8x10 sheet at Walmart in the automotive section. I searched high and low but couldnt find it online anywhere. You can substitute this with any sort of chrome film that you can cut to the correct shape.
1.5 2 Kyrlon Chrome spray paint Caps. This will be your ears.
2. This helmet
http://cgi.ebay.com/ebaymotors/ws/eBayISAPI.dll?ViewItem&item=120460751933&viewitem=&sspagename=STRK%3AMEWNX%3AIT
If you cant get this specific helmet, you could substitute it for a similar one. This one is nice because its already the right shape and is made of thin plastic instead of something heavier and more annoying to wear. I would not recommend an actual motorcycle helmet because of weight issues.
3. These Files
http://www.mediafire.com/?sharekey=5f31918b5d7318337069484bded33bcdee851c20c3cd01fa
These files were made by a guy that goes by "Luchofunk" on the internet. His intended uses for these were to attach them to a baseball helmet and use bondo/ filler to get a smooth surface. This works well to get the correct shape, but can't be used if you want a perfect chrome finish. We will be using these files slightly different.
3.5 Cardstock to print out the files mentioned above on.
4. A hot glue gun and hot glue sticks. You can substitute this with your adhesive of choice, but I found hot glue worked the best.
5. Some thin plastic for the visor. I had a piece from Hobby Lobby that I think was like 1mm thick. The thinner it is the better. (assuming its still sturdy) You want plastic that will flex easily and not crack when cut. Just test out cutting it to see if its going to snap when bent.
6. Car window tint. This comes in a roll at walmart or any autoparts store. I got the darkest they had.
7. Some wire coat hangers. You will use these to make your paper pieces hold their shape.
Alright, The 1st step is to get your helmet ready. All this requires is pulling the foam padding out and removing the black rubber peice that runs along the edge. when you are done with this you should have just a Chrome helmet with nothing else attached.
Step 2. You need to print off the files you downloaded before on cardstock. You will only need the upper visor, lower visor, and jaw/mouth peices. When you print these off print them off at around 90 percent. If you think they need to be bigger/smaller you can print them off at the size that suits you. I went with 90 though for the specific helmet I mentioned. Also it is important that you print all your pieces off twice. We will be using the 2nd set of pieces as a template for our chrome pieces later.
Step 3. Go ahead and assemble your printed files. It should look something like this when you get them assembled.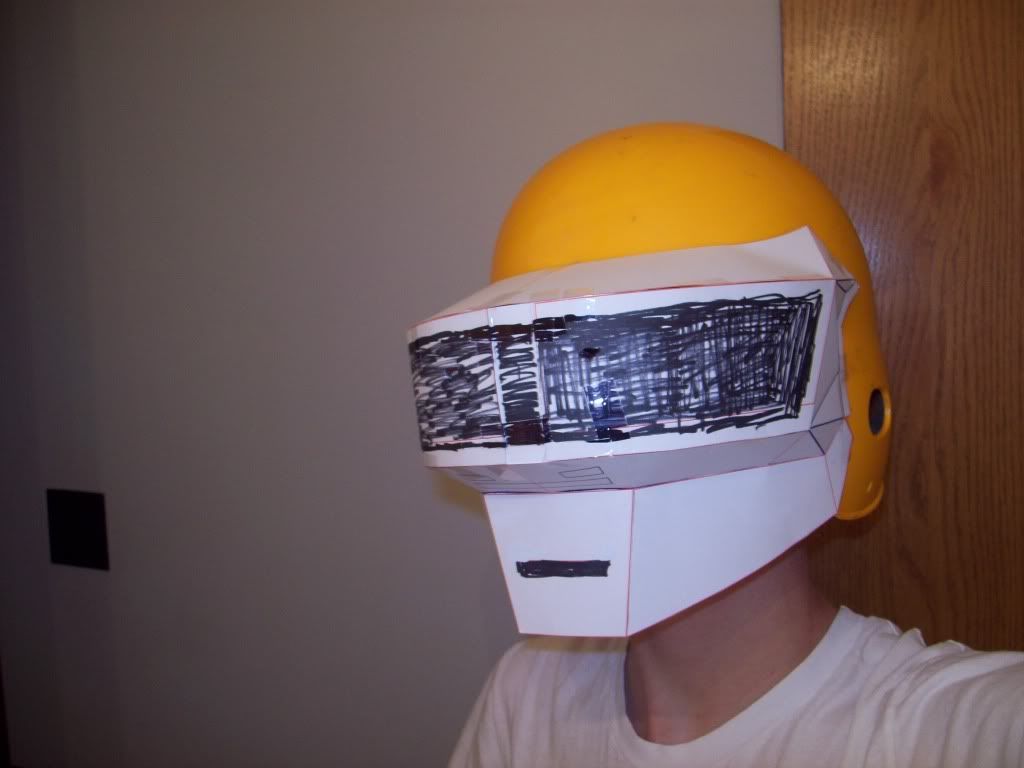 This was my first helmet that I used bondo on. It turned out pretty flawless apart from needing to be chrome instead of dull silver. Ignore the fact that this helmet has the paper visor installed. You will not be needing that. After you have them assembled you may notice that because there is no visor the visor area sort of pinches together, for now, to fix that you will hot glue in a piece of cardboard to hold that area open.
Step 4. Glue your cardstock face section to your chrome helmet. Try to glue from the inside so that no glue seaps out and is visible on the chrome. This just makes it look a lot cleaner. (Once again, it should look like the picture above, only it wont be a yellow helmet and you wont have a visor.)
Step 5. All the pieces that make up your cardstock sections that you printed off twice, take the second set and cut them out. You are now going to trace all those pieces onto your plastic chrome mirror sheets.
Step 6. What you are going to do now is glue all your chrome pieces onto your cardstock. Start with your above visor piece and your below visor piece. When you glue these pieces down they are going to deform your cardstock. to counteract this, you are going to cut a piece of your hanger wire to the correct length and then glue that on the underside of your cardstock visor so that it holds its shape correctly.
Step 7. Take your Kyrlon Chrome spray paint caps and cut them to be about an inch shorter. I used a dremel for this part. Once you've done that, cap them off with a circular piece of your chrome plastic. I attached the ear pieces by gluing a wooden kitchen skewer on the inside of the helmet and then glue the ears to that.
Step 8. Now that you've glued your chrome pieces to your helmet you are basically done. The only thing left is making the visor. measure the helmet to figure out how tall the visor should be. Cut it out and tweak it until it fits in your helmet right. Once you have the correct shape, follow the directions on your window tint to tint your visor.
Step 9. Put it on and look like a punk. A daft punk that is. Good job! You are finished!
Secret Step 10. If it doesnt fit well just add some padding on the inside.
Hope that helped!! Post any questions.