Wow...straight from the book!
How to re-insert pins into cartridge slot!!!
When I took apart the cart. slot, I ripped out a LOT of pins. I was pissed, but curious as well. I looked at the pins and immediatly recognized them.
When inserting them back, make sure the look like this:

Next, look where the hole is thats missing a pin and insert it at an angle first: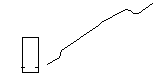 Then, just move it in slowly. It should slide in without any problems, if it feels its not going in, STOP, take it out, and do it again making sure its going in the correct way. Once you push in as much as you can, use something thin (tweezers) and push them in more until you hear a little snap.
Congrats, your cartridge slot is now back in good shape!!! I already tested this out and my system ran perfectly fine. No need to waste excess money on another cartridge slot!