I'm not normally one for making elaborate designs/renders/drawings before I make a portable, but discussion in
this thread
has got me daydreaming. I had this image in my mind and had also recently downloaded Inkscape, so naturally I couldn't resist. (You should try that program - it's fantastic for being free and close enough to Illustrator's capabilities for my needs)
This picture is not perfect, but it's pretty close to scale (except for the buttons but that's not important right now). I used lovablechevy's wonderful
dimensions for the Retro Duo
that she so lovingly measured for us fellow nerds.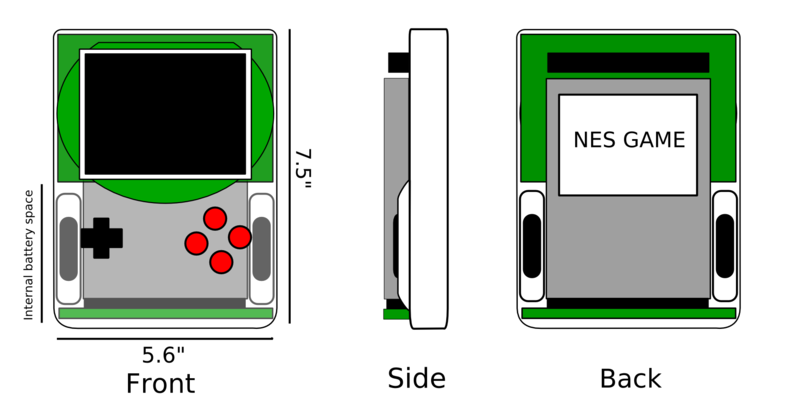 For the internal batteries, I was thinking of popping in a couple of
these flat polymer li-ion cells
from BatterySpace.com
Now for the fun stuff - the two cartridge slots. This is best seen from the back view. Since there are only two circuit boards in the Retro Duo, the lower NES board is at a 90 degree angle from the SNES board. Thus, the NES cartridge will slide down the back in between the two raised shoulder buttons on the back and an SNES cartridge will stick out at a right angle from the portable. That black rectangle up top is the SNES cartridge slot.
As with any design everything is subject to change but I like it so far. This probably isn't going to be made any time sooner than this summer (if I still feel like making it then) but I'd be interested in anyone's thoughts about improvements or if they've come up with a dual slot portable design of their own. If you have, post it!

_________________


dragonhead wrote:

sweet. ive spent a third of my life on benheck!