I did a little more brainstorming on how I'd go about making a Wireless 3PS60, as the more I think of the difficulties in making the thing the more I have to figure out ways around them.
I've always figured that the entire board would have to be redone, as there just really isn't much room for making up some additional one, and even if there was it would still have to be soldered up to the original PCB and then all that wire would take up even more room, plus having to solder to the Vias in the PS3 controller, which are already small enough, and then going from the PS3 controllers 3 COM line Analog button layout to anything else, so a redux of the entire PCB with the Wireless 360 components on it is how I'm going to attempt this... some day.
I've also decided to use a PIC to keep the original Analog button setup of the PS3 controller mainly intact and convert it to a Digital setup that the CG2 can use. This way the flexible Daughter board will not have to be messed with at all, and then a DAC will be used for the L2/R2 buttons so they can be kept Analog for the LT/RT of the 360 controller, plus swapping them around with L1/R1 will also be possible.
For powering it I've decided on the PS3 battery and some Li-Ion charger built in. Using the 360 battery setup would add more work of putting in a PnC charger, or a new 7 pin connector for it, and finding some suitable battery pack to stuff in there, or alter the controller shell to hold some AA mess, which would all be on top of the already daunting project. Since the 360 has 5v standby on the USB ports when it's powered off the controller will still be able to charge, it just isn't going to be able to turn the 360 off like a stock wireless controller can when it's fully charged, but that's a trivial thing to lose.
I've already done up the schematic for the CG2, some time ago actually, so that part of this is a done deal, just need to tweak the footprints for all of the components and check it all over again, and again.
These are very preliminary renders of the Wireless 3PS60 board, and nothing will be where it's at now once I get to the trace routing stage of things.
TOP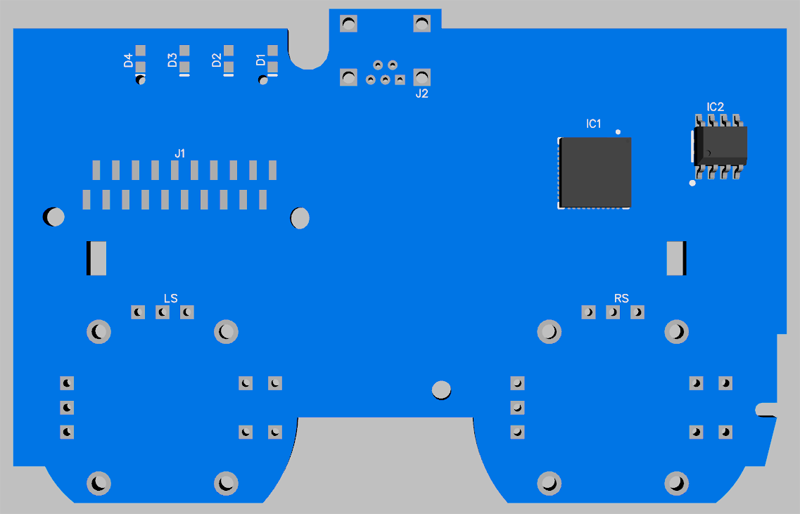 BOTTOM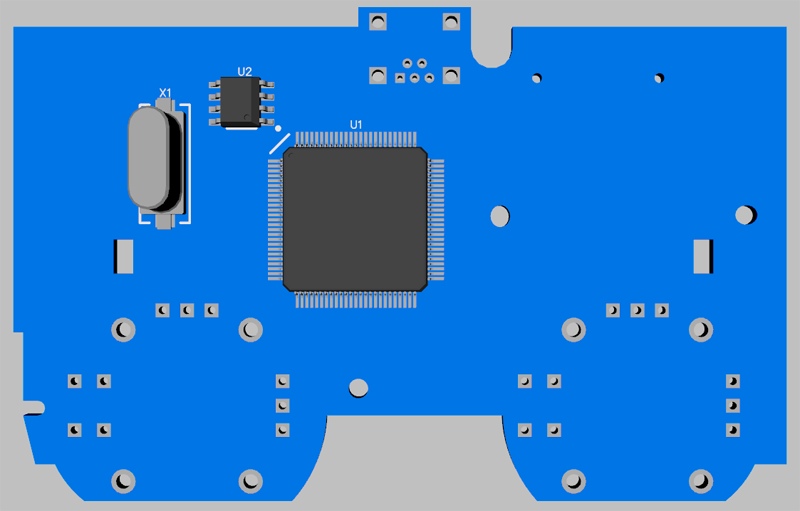 _________________


Screwing up is one of the best learning tools, so long as the only thing you're not learning is how to screw up.


Re-mappable Wireless 360 Controller - The CGnome