The CGnome has been installed in a Black shell now with both EX buttons installed on the back.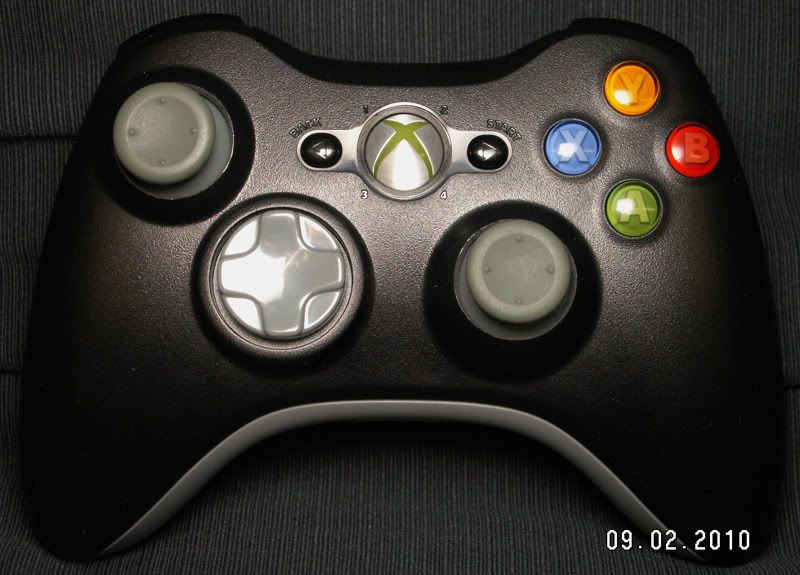 Price is $300 shipped for this controller, and it will come with a new PnC battery pack also. Remember this isn't just 1 controller, it's technically 6 controllers in one, a default layout 360 controller and then 5 Remapped ones, and since you can change the 5 Remaps via the Mapper Zapper software on the PC any time you like it's as many as you can come up with.
- If you like to play Single player games with friends, but they use an alternate controller layout from what you do, and you're all tired of having to go into the options menu to swap back and forth between controller layouts with the CGnome that's as simple as changing to one of the other Remaps on the controller after setting it up.
- If there's some game that has a button that you think would work better in a different place, for example swapping the A and Y buttons, but there is no in game option for it, it doesn't matter, you can set that up and have that one on another Remap.
- If you'd like your controller's button layout to be more like one game for playing another but the in game options don't have that layout, make it up and save it to another Remap slot.
- SouthPaw? Legacy? SP Legacy? Have that covered and then some. Move the ABXY button functions to the D-pad and the D-pad functions to the ABXY buttons, as well as swap the Sticks, Bumpers and Triggers, or any combination thereof that works best for you.
- Have a game that requires some repetitive button combination that just gets old? Setup a Macro for it and Map it to any button on the controller, or use the EX1 or EX2 button so none of the controller's buttons have to be used up for it.
- Rapid Fire? Yes and No. The CGnome was designed for Remapping the buttons so the controller works best for the game that you're playing, not for getting around patches in online gaming. It can do simple R/F, and on any button of the controller, Triggers or the EX buttons.
_________________
Screwing up is one of the best learning tools, so long as the only thing you're not learning is how to screw up.
Re-mappable Wireless 360 Controller -
The CGnome